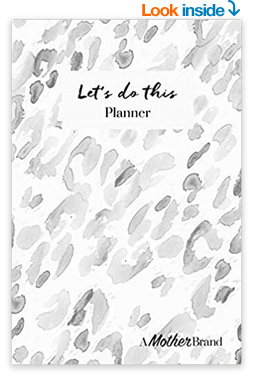 Let's do this Planner
SKU AMBKDP - LDT - 140
The Let's do this Planner - a motivational planner for making your dreams a reality.
Product Details
Have you got a dream project you'd like to bring to life or a dream business to build?

This subtle leopard-print motivational journal is here to inspire and motivate. With narrow-lined pages, spaces for the date and a cover to get you fired up, use this planner to feed your brain positive vibes and to enjoy planning for success.

SPECIFICATIONS:
A5 (21cm x 14.5cm)
Softback cover
140 lined pages
Space for the date

MADE FROM:
220gsm matte cover
90gsm FSC certified ivory paper
** Please note ** this product is produced by Amazon KPD - so it has to be purchased through Amazon. See link in purchase options.

Save this product for later